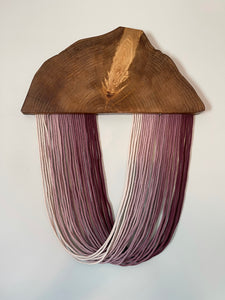 Palmer Mulberry Natural Frame Fibre Art
Palmer Mulberry Natural Frame Fibre Art
100% natural wool fibres
Spruce wooden frame
Item measures 19.5" wide by 25" long
The natural style frames are each unique and can never be replicated. Cracks can be seen in the natural frames, and these cracks have been filled with epoxy to maintain the structure of the frame. 
After receiving your wall decor, gently shake to release the strands into place. If they are still tangled, use your fingers to VERY gently untangle the strands. These pieces are natural wool and it is not advised for them to be touched once hung, or you will begin to see fraying occur. 
For each piece you will be provided hardware and instructions on how to hang it with your order.